Green credentials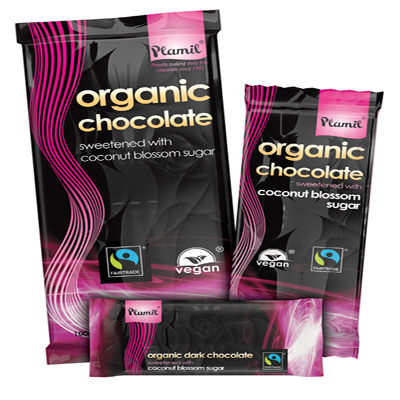 Plamil sales and marketing manager Julian Lucas talks about the chocolate company's free from products and why the trend is here to stay.
What is the background to the brand?
Plamil is the oldest vegan company in the UK. It can trace its history back to a sub-committee of the Vegan Society which was formed in 1946 and was tasked with finding a plant based milk. In the 1950s, the Plantmilk Society produced a milk made from cabbage and sold it in London. Plantmilk made the first soya milk in western Europe in the early 1960s. Plantmilk was eventually shortened to Plamil, making many vegan products.
When the company first started producing these products, there were no other businesses around to copy. Not only did Plamil have to create these products, it had to create a market for them as well. In the 1970s, the company started to sell chocolate. In 1983, the company made the world's first dairy free milk chocolate using soya and later used rice. The first organic chocolate made in the UK was another first by Plamil. As a dairy free chocolate manufacturer, Plamil sells bulk to bakers, caterers, other chocolate companies and ice cream makers around the world.
Many free from chocolate products for sale in UK supermarkets use Plamil chocolate. The company makes its own retail products as well as for other companies. We believe we have the only chocolate factory that runs on 100 per cent renewable energy.
What type of outlets do you sell through and do you plan to expand this?
This depends on the country. In some, Plamil chocolate can be found in most corner shops and supermarkets, in the UK, it is mostly sold in health food stores and online.
Who is your target consumer?
Plamil products are sold in a number of markets, but the one thing that encompasses all of them is that our target consumer is normally looking for a quality product they can trust which has been made to the highest ethical standards.
What are your best sellers and have these changed over the years?
All Plamil products are dairy-free, gluten-free and are made in our factory, which operates a strict no nut policy. All the chocolate is certified kosher.
A few years ago, a firm making ethical chocolate may not have considered the amount of sugar being used. Today, this is very important. Plamil still makes chocolate with organic cane sugar, but now produces a range of alternatives. Lots of This None of That is a rice milk chocolate with reduced sugar and UTZ cocoa. There is an organic Fairtrade dark chocolate sweetened with unrefined coconut blossom sugar. Plamil has a large range of no added sugar chocolate sweetened with Finnish birch xylitol. Whenever Plamil introduces a new product, it tries to have a no added sugar alternative as well. This means seasonal products are always available to those who want, or need, to cut out added sugar. All our cocoa is certified organic, Fairtrade, UTZ or a combination of these and mainly comes from the Dominican Republic.
How has the industry changed since you've been working in it?
In the years since Plamil started producing vegan/free from chocolate, the market has grown dramatically. Sales have really mushroomed over the past 15 years with regular double digit growth. The appeal and potential for vegan products is expanding beyond a reasonably small but growing group of people who avoid animal products for ethical reasons to include the much larger base of consumers seeking healthier, cleaner foods.
Are you facing any challenges and opportunities at the moment, and what are your future plans?
The uncertainty following the referendum in the UK has resulted in our costs rising. In recent years, we have extended our production area and added a further 11,000 square feet of warehouse space. We have also bought some land where we hope to eventually build a new state of the art green factory.