A look at Loacker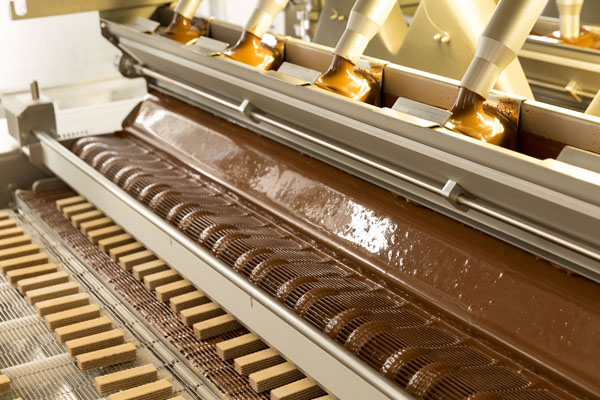 The company, which operates two production facilities at 1,000 metres above sea level, one in South Tyrol in northern Italy and one in Heinfels in Austria, produced 36,629 tonnes of wafers and chocolate specialties in 2016, corresponding to 877 million units.
Loacker prides itself on using natural ingredients in its products, including Italian hazelnuts, which are ripened in the country and roasted by the company, as well as real vanilla pods, fresh mountain water, pure chocolate and high-quality milk. There are no colourings, preservatives, flavourings or hydrogenated fats in its products and the company does not use genetically modified engineered ingredients.
Some 95 per cent of raw materials that enter the South Tyrol factory come in tanks and are transformed into the cream for Loacker's product range. After the raw materials are made into a paste, the mixture goes into a refiner so the liquid contents evaporate and are made into a powder. This is then pumped into the tanks and mixed with coconut oil for 24 hours.  For the wafers, flour and water are mixed together following the original recipe of the company's founder Alfons Loacker. The South Tyrol factory has seven ovens capable of producing 300 wafer leaves per minute. After cooking, the wafer is then cooled down for around 20 minutes before being cut. After baking and filling, the wafer blocks are then cooled down for around 20 minutes before being cut.
Quality ingredients 
Using high-quality ingredients, however, is not without its challenges. Lara Consoli, communication manager at Loacker, explains, "Using the best ingredients is not always an easy game: the high-quality standards of Loacker and the increasing raw material prices lead the company to finding new solutions through vertical integration."
She adds, "Natural ingredients are one of our main philosophy points and we want to stick to that."
The company is currently working on a project in Tuscany, Italy, to produce its own hazelnuts so it has more control over the quality of its ingredients and isn't too dependent on the market. However, Alexander Eisath, product manager for Loacker's sweet biscuits division, admits that it "takes time."
For ten years, Loacker has owned a 200-hectare field in Tuscany and it wanted to make the most of this. "We started three years ago with the hazelnut production. Now, this year is the fourth year [and] we have started to have some fruits," Consoli says. "This [project] allows us to have direct control over the quality of our ingredients and we are going to move on in this project," she adds. "We are probably going to try to do this for other ingredients as well."
In terms of other ingredient challenges, Consoli says it is also difficult to source high-quality vanilla. While consumption of vanilla has grown, production quality has slipped. Production of vanilla pods is complex as it takes ten months to have a pod that can be used for production, she explains, adding that it's also an expensive process.
In addition, she tells Confectionery Production, "We've always used coconut oil. We didn't switch to coconut oil when the whole polemics over palm oil started – we've always used coconut oil from the very first day."
While the company focuses on the quality of its ingredients so too do consumers of Loacker's products. "Consumers put more and more importance on quality, but they're also very critical and they're more attentive to what they eat," Consoli says. "They're very well informed due to the opening up of information – you have access to everything you can say. You have access to information that you didn't used to have 10 years ago, and companies are expected to be more transparent.
"Loacker is very confident and clean from that point of view because we don't have anything to hide and we're very transparent in what we use for producing our products."
As well as helping to build a sustainable future for the ingredients it uses, Loacker uses heat from its ovens to heat the building. The company implemented a heat recovery system, which saves 95,000 litres of gas to supply electricity to the offices above the production floors. "It is a matter of give and take so, we try to give credit to nature which gives so much to us every day," Consoli explains.
She refers to the fact that at the company's head office you step inside a natural environment, in the middle of green fields on the high plateau of Renon/Ritten, looking out onto the Dolomite mountains.
Automation 
Most of the production at Loacker's factories is automatic. "We have lots of automated production lines, but there are still people behind them," Consoli says. "People are very important for us and we need them to still be a part of the production process."
She adds, "Our machinery fits our needs and not the other way around."
Consoli recognises that the industry has had to become more efficient over the years. "We also faced a need to be quicker, producing more and more," she explains.
"We managed to do so through our good planning globally, good innovation of machinery, and thanks to the know-how of our technical staff we were able to face this change in industry."
Export expansion
As well as being distributed in its home market of Italy, Loacker's products are also exported to five continents. After Italy, the company's second biggest market is Saudi Arabia and the third biggest is South Korea. Loacker has its own distribution companies in the US, Germany and Italy, while the rest is done with distribution partners.
The expansion and development of its export market is something Loacker plans to focus on going forward. "Our plan is always further diversification [and] internationalisation – we want to establish not only new markets but also grow in the markets where we are present," Consoli concludes.