Fair trade bars hit stores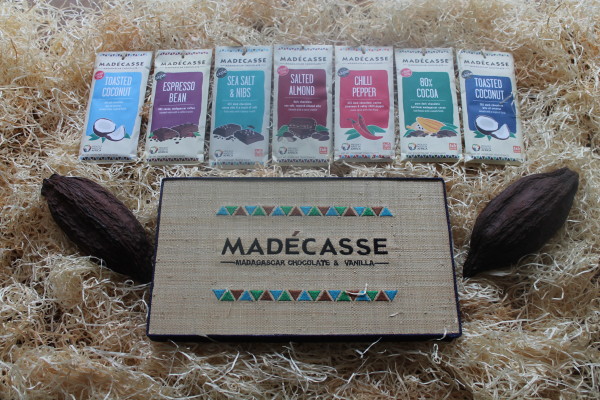 Madagascan bean to bar chocolate company Madécasse has continued its sales drive after its chocolate bar range was launched in Sainsbury's.
Coinciding with the beginning of Fairtrade Fortnight on 29 February, the Sainsbury's launch will see Madécasse's selection of handcrafted bars including Dark Chocolate Toasted Coconut, Milk Chocolate Toasted Coconut, Espresso Bean, Salted Almond, Sea Salt & Nibs, 80% Cocoa and Chilli Pepper roll out in 267 stores around the UK.
Wholly produced and packaged in Madagascar, Madécasse, which provides four times more impact than fair trade, is one of a growing number of companies looking to go beyond traditional fair trade and instead is looking to drive interest in high quality 'fair made' products.
The brand carries the new 'Proudly Made in Africa' label, which highlights products, which are quality, assured, ethically sourced and manufactured in Africa from locally grown ingredients.
Madécasse applies fair trade principles throughout the entire chocolate making process and works with local cocoa farmers and communities to provide training, jobs, infrastructure and equipment.
Brett Beach, Madécasse co-founder, says, "African countries have always exported the majority of their raw materials, therefore missing out on opportunities to turn quality ingredients into premium finished products that can generate more income, jobs and skills for local communities. Our ethical bean-to-bar philosophy not only ensures the most amazing chocolate by manufacturing at the source of the world's finest cocoa but it also empowers local communities with four times more impact than simply exporting fair trade cocoa. The launch in Sainsbury's is a milestone for our company, so we can't wait for their customers to taste our unique bars and discover our exciting backstory."
Tom Elliott, Sainsbury's confectionery buyer, adds, "We're pleased to be working with Madecasse and bringing an exciting brand of quality chocolate to our customers. With the company's unique approach to chocolate making and its various social development projects, by supporting the brand, shoppers will make a real difference to the communities and ecosystem of Madagascar."