Podberry adds two new flavours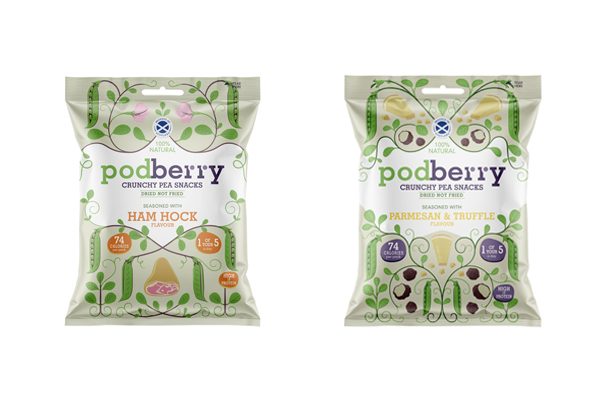 Podberry, a UK freeze-dried seasoned pea product made with Scottish-grown produce, has announced two new flavours.
A Parmesan & Truffle and Ham Hock variant will be joining the two existing flavours, Sweet Chilli and Sea Salt & Balsamic Vinegar. The two new flavours are currently available exclusively for online order.
The product is harvested and frozen in under two and a half hours before undergoing a freeze-drying process, never fried. Due to this freeze drying process, the peas expand on eating meaning that even with just a small portion you're left with your appetite satisfied and fuller than you might expect.
Podberry are high protein, low in fat, gluten free and 1 of your 5 a day with no compromise on flavour. Each 20g pack guarantees 4.6g of protein and 2.2g of fibre.
Geoff Bruce, director of Podberry, said: "We are really excited about the addition of these two new flavours to the Podberry range. With the new packs we wanted to expand the spectrum of flavour and appeal to all and think we've hit the nail on the head with these two exciting additions.
"Now it is key that we find a stockist, or multiple stockists, who can help us ensure the consumer gets their hands on Podberry wherever they are in the UK, or beyond. While our website is one option, we acknowledge having a place on a shop shelf is invaluable and would love to chat to buyers who can make this idea a reality.
"The reception we have had from those who have tried Podberry already has only enforced our belief that we have a delicious and unique product so we can't wait for more people to experience our four delicious flavours."
Related content