Graze, Tesco and Race for Life join forces to fight cancer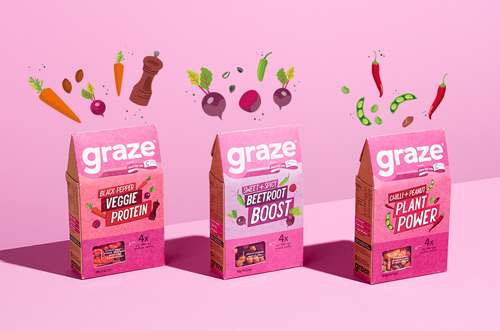 Graze has announced its partnership with Tesco to support Cancer Research UK's Race for Life this summer.
As part of the Tesco Turns Pink initiative, graze has launched three pink-themed limited edition products made exclusively for the supermarket.
Tesco Turns Pink is an annual event which sees Tesco staff and Cancer Research UK volunteers come together for a weekend of in-store fundraising to support Race for Life.
The limited-edition range comprises of three new flavours and was created in collaboration with Cancer Research UK.
Consumers can choose from the following options; chilli and peanut plant power, sweet and spicy beetroot boost, and black pepper veggie protein. According to the brand, each product provides a source of protein and fibre.
The new packaging, created especially for the Tesco Turns Pink initiative, also features inspirational stories from Tesco employees based on their own personal Race for Life experiences.
Available in single-serving format and multipacks, 5p from every punnet and 20p from each multipack sold will be donated to Cancer Research UK with the aim of raising £100,000 for the charity.
Anthony Fletcher, CEO of graze, says, "I am really excited to be partnering with Tesco and Cancer Research UK's Race for Life.
"This is a cause close to the hearts of many at graze and Race for Life is a fantastic event that brings together thousands of women across the country to support Cancer Research UK's life-saving work.
"We are proud to be a part of Tesco Turns Pink and encourage our grazers to sign up and take part in their local Race for Life event."
Jane Lawrie, Tesco Group communications director, adds, "We're delighted to support graze with these products. By featuring our colleagues' stories, we hope to support those affected by the disease and help raise vital funds for Cancer Research UK, so a big thank you to everyone who buys a pack."
The products are available on shelves in Tesco until July 2018.
Related content