ProV Foods launches activated nuts in India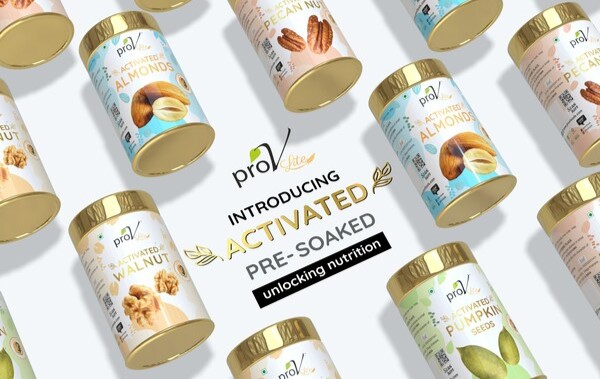 Image: ProV Foods
ProV Foods, an integrated commodities company specialising in dried fruits, nuts, seeds, and berries, has introduced the first of its kind in India, a groundbreaking product line of pre-soaked nuts, 'ProV Lite Activated Nuts.'
Shalin Khanna, co-founder and chief marketing officer of ProV Foods, shared his vision for 'ProV Lite Activated Nuts,' stating, "We have embarked on a mission to reintroduce the age-old tradition of soaking nuts, deeply rooted in Indian culture, to today's fast-paced lives. Our goal is to revolutionise the way people enjoy soaked nuts."
Soaking nuts overnight is a practice celebrated for its cultural significance and the incredible health benefits it offers. However, this time-honoured method comes with its own set of challenges, including the need for planning and patience. ProV Foods sought to provide a solution. The products in the 'ProV Lite Activated Nuts' range seamlessly blend tradition with innovation, eliminating the necessity for overnight soaking. With 'ProV Lite Activated Nuts,' the hassle of planning and waiting becomes a thing of the past, as it offers a pre-soaked and dried, ready-to-enjoy snack whenever you desire. Instant gratification now takes centre stage, delivering a snacking experience like no other.
ProV Foods is delighted to introduce a 400g gift pack containing a delightful combination of Activated almonds, walnuts, pecans, and pumpkin seeds. This package has been meticulously designed to serve as the perfect choice for elegant and opulent gifting, embodying a harmonious blend of tradition and modernity, ideal for the upcoming festive season.
The 'Lite' in 'ProV Lite Activated Nuts' not only represents the ease of preparation but also the lightness they bring to your stomach. These nuts are remarkably easy to digest, making them an excellent choice for everyone. The unique soaking and drying process not only creates a delightful crunch but also enhances the natural flavours, making 'ProV Lite Activated Nuts' a must-try for all.
With this innovative product, ProV Foods continues to lead the way in delivering quality and convenience to its customers. It's time to embrace the best of the past and the future with 'ProV Lite Activated Nuts' – redefining snacking the ProV way. Get ready to rediscover snacking like never before.
Related content