Just confectionery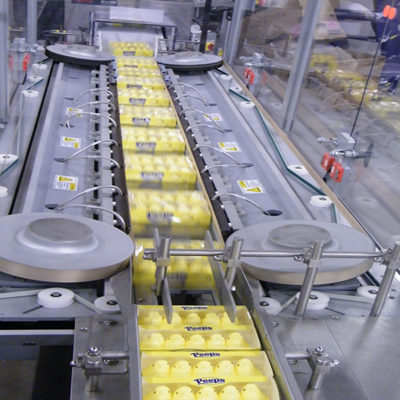 Matt Pye, vice president of trade relations and corporate affairs at Just Born Quality Confections, discusses distribution growth, packaging challenges and the so-called demonisation of sugar.
What is the background to the brand?
Just Born Quality Confections is a third generation, family-owned candy manufacturer that has been in business since 1923 and is known for its iconic brands, including Peeps, Mike and Ike, Hot Tamales and Goldenberg's Peanut Chews. Since its inception, it has grown to be the ninth largest candy company in the US, with all of its candy produced in the country. The company's vision is to be the most respected confectionery company in the world.
What type of outlets do you sell through and do you plan to expand this?
Our candy brands are available year-round at mass, grocery, drug, dollar, convenience, club and speciality stores nationwide and online. We will continue to focus on growing our distribution across all of our brands in these outlets.
Who is your target consumer?
The target Peeps brand consumer is primarily women (mostly mothers) between the ages of 25-54 who are considered holiday traditionalists and fun enthusiasts and want to make every occasion special for her and her family.
The target Mike and Ike consumer is between the ages of 13 and 17 that listens to music, watches movies, enjoys sports and plays console and online games.
The target Hot Tamales consumer is between the ages of 18 and 24 and has a bold, daring and adventurous personality and enjoys theme parks and has a thrill seeking attitude.
The target Goldenberg's Peanut Chews consumer is primarily men aged 25-44, who are looking for a substantial candy that they can grab on the run but take time to enjoy.
What are your best sellers and have these changed over the years?
The Peeps brand is our most widely known candy brand, particularly for the Peeps Chick and Peeps Bunny at Easter time. Peeps Marshmallow Candy is available in a variety of shapes, colours and flavours during all the major seasons, including Halloween, Christmas, Valentine's day, Easter and summer.
Mike and Ike is our largest brand by dollar sales and is a top selling fruity, chewy candy brand available in a wide array of flavour varieties and package sizes. Hot Tamales is the number one cinnamon candy in the US and is usually positioned right next to Mike and Ike in candy retail locations. The Mike and Ike Original and Hot Tamales Theater Boxes are two of the bestselling items among candy packaged in boxes and are available nationally in all major retailers. The Goldenberg's Peanut Chews brand which we acquired in 2003 is our oldest candy brand and is still a leading regional chocolate candy with sales strength in Philadelphia, New York, Baltimore and Tampa.
How do you promote and market your products?
All Just Born Quality Confections candy brands are supported through social and digital efforts, as well as consumer and instore activation.
How has the industry changed since you've been working in it?
Retailer consolidation and brand acquisition have resulted in fewer candy companies selling to fewer customers.
Are there any challenges and opportunities you're facing?
Challenges include costly packaging changes due to nutrition labelling and the demonising of sugar.  Opportunities include company/brand transparency and social media to develop deeper relationships with our consumers across the globe.
What are your plans for the future and how do you see the company progressing?
Just Born has brands that consumers know and love. We have tremendous growth potential through continued distribution gains, innovation, licensing and partnerships.
What is a typical day for you?
A typical day includes reviewing a press release, participating on an industry association committee conference call, representing the company at a chamber or community event, reviewing daily sales at our Peeps & Company retail stores, meeting with direct reports, touring the plant with a VIP guest and eating a warm Peeps marshmallow chick right off the line.